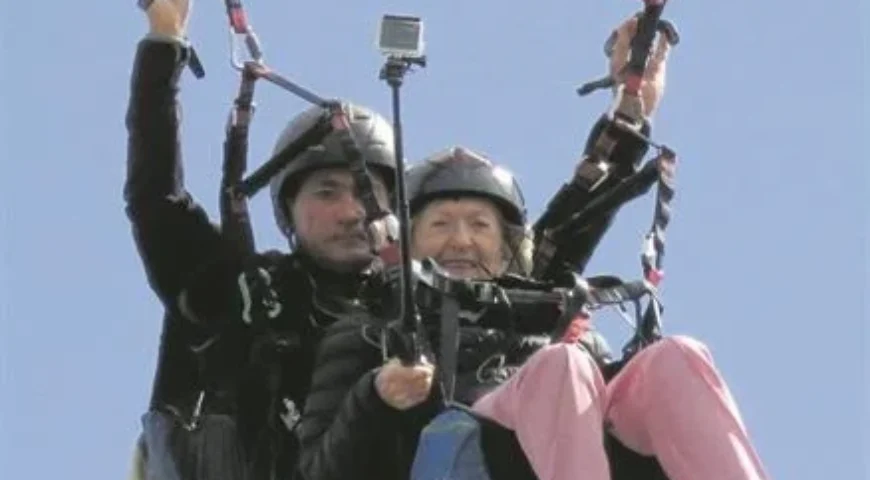 The sky's the limit
Dorothy Jones is proof that age is but a number. Throughout her life she has indulged in many adventures, including piloting a Cessna plane and sailing a catamaran from South Africa to Turkey.
Her latest adventure involved taking to the skies on Saturday to celebrate her 90th birthday by doing a tandem paragliding jump off the mountains above Hermanus.
"I have wanted to do it for a very long time," she said afterwards. "It was wonderful. It was beautiful and quiet up in the sky."
Jones, originally from Yorkshire in England, lived in Zambia for many years with her husband, Casey, who died five years ago.
The couple shared a love for flying and sailing, and owned various boats throughout their lifetime.
"When I was in my 50s or 60s I sailed with my husband from South Africa to Turkey," she said. "We used to fly and sail all over the world. The last time was in a catamaran."
The nonagenarian, whose birthday was on 10 December, said she wouldn't describe herself as an "adrenaline junkie", but rather someone who loves to explore and experience different kinds of adventures.
Besides travelling, she also enjoys doing crossword puzzles, jigsaws, playing bridge four times a week as well as gardening.
"I live on my own in Onrus Manor and I still do my own housework," Jones pointed out.
She enjoys travelling and exploring. On one of her voyages on board a cruise ship three years ago she had the misfortune of being stuck on the vessel along with all the other passengers and crew when many countries closed their borders at the start of the Covid-19 pandemic.
She was stranded in England for six weeks as a result but was not put off by the experience. Now, she is excited about travelling to Japan later this year with her family. There's a lot more the adventurous mother and grandmother would love to do and experience, but for now she is still on cloud nine after her latest adventure.