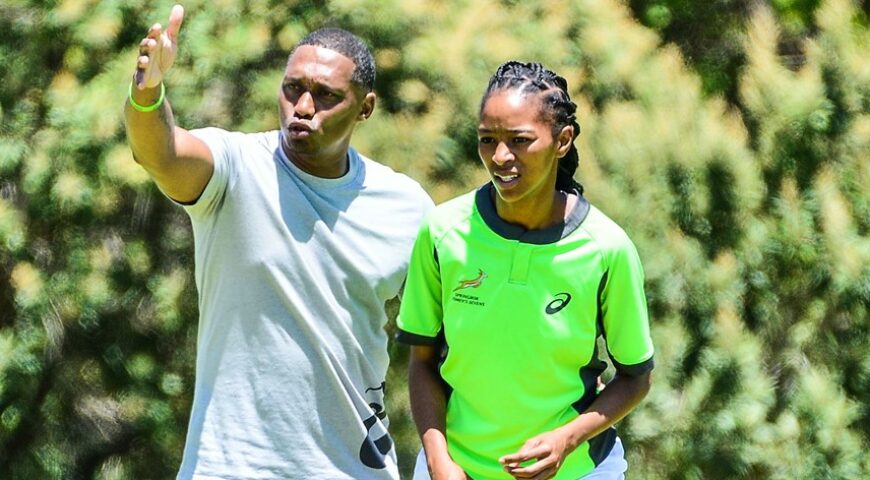 Dazel happy with progress in Hermanus
The Springbok Women's Sevens squad showed good progress and understanding of what is needed to be successful in this year's World Rugby Sevens Challenger Series, and team coach Renfred Dazel said he was very happy with their effort.
Dazel had reason to be satisfied after his team delivered a clean sweep of results at the Hermanus Women's Sevens at the weekend.
The team won all six their matches against local clubs (report here) and for Dazel that was a good way to finish their first block of preparation for the Challenger Series, to be played in Stellenbosch in the last two weekends of April.
"We needed to see why we were doing things in training and this outing was great for that," said Dazel.
"The standard of opposition was not the greatest, but that was not the important factor for us. The squad needed some game time together and for that reason alone the tournament was a success."
Dazel was pleased with the return of some injured players as well and said, as usual, the tournament gave them some reflection on local talent.
"We spotted Zandile Masuku at this tournament and she is now playing for us, so that gives an idea of what is possible," he said.
"I hope this tournament and other like it, grow bigger and bigger, as that will expand the pool of talent that can flow into the national set-up."
The first month-long training block finished off with the outing in Hermanus and Dazel is pleased with what he saw.
"There are a couple of areas where more work is needed, but the players needed to see that as well," he said. "They now know where there are shortcomings in their armour. From a team perspective, finding each other on the field and connecting on attack and defence was important, so that was a good reward from the tournament."
The next camp commences on 7 March.