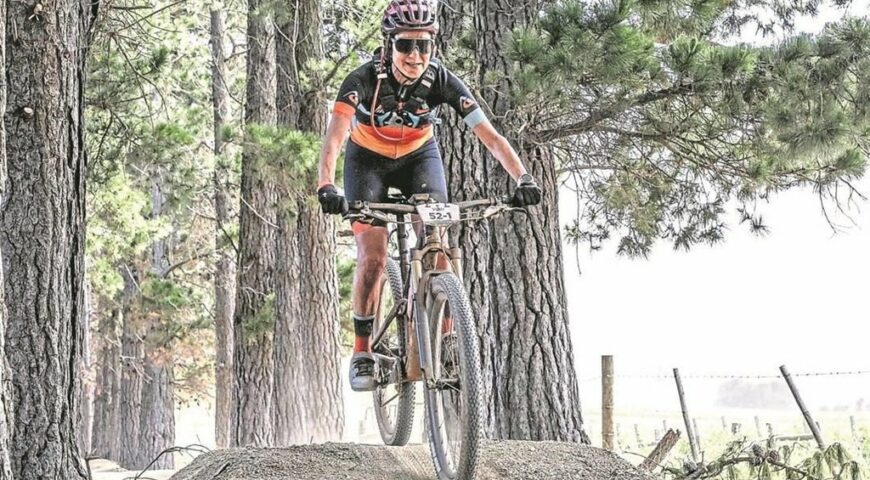 Cycling for friends, family
They are Hermanus's pride and joy . . . and it is proof not all heroes in Hermanus wear capes – they mountain bike instead.
For Almarie Hugo, her second Cape Epic will be even more memorable than her first last year. "I'm doing it with my son, Neil," she said. "I don't know how many mother-and-son teams there are, but it's very special for me.
"He is a marine engineer for Maersk, and so he works offshore for three months and then two months on shore. He has actually been putting in a lot of hard work on a cargo vessel training for the Cape Epic."
It is clear that humour is the tie that bonds the 59-year-old mother and her son (30) as they are riding under the team name #shemademedoit at this year's event.
Hugo started mountain biking four years ago. A fitness fanatic by nature, she has taught spinning classes at various gyms in the Western Cape, including her home gym in Hermanus.
"I always had people who attended my classes saying I should start cycling, but I would say 'No, I'm not a cyclist'. But then about four or five years ago my husband said I should get a bike, and so I started."
What surprised her most during her first outing in the race last year was how technical it was.
"I wasn't really ready for that," Hugo said. 'But I have been training with my coach, Johann Wykerd from Absolute Motion, for about three years, and if it wasn't for him and all the wonderful training and motivation he's given me I wouldn't have been where I am today."
Hermanus native Claude Tyers will tackle his sixth Cape Epic this year.
The father of four, who celebrated his 49th birthday on 24 February, has made a habit of competing alongside his friends.
"Last time around I did it with a friend of mine, Andrew Grimanis, who wanted to complete his third one," he said. "This time around it's with a mate of mine, Charl Boshoff, whom I grew up with in Hermanus. He's doing his first one, so I'm very privileged to do it with him."
Not that he doesn't like to challenge himself. "I weigh 109 kg and am 1,98m tall, so I'm one of the bigger guys in the race. I measure how well I do according to my own capability."
He started his training for the 2023 Cape Epic about two months ago under the watchful eye of coach Lance Stephenson.
"We did the Tankwa (Trek) recently and a few other races prior to that, so I'm feeling good."
Hermanus's Franklin Haman, 47, is taking part in his first Epic this year, teaming up with cousin Des Haman, of Scotland.
He was scheduled to race in 2020, but then the event was cancelled due to the pandemic.
Born and bred in Hermanus, it was special to him that the race was taking place in his home town.
"Hermanus will once again get the chance to showcase its beauty to the world – and we get to sleep two more nights in a bed and not a two-man tent!"
The Hamans, like so many others in the field, are using the race to help others.