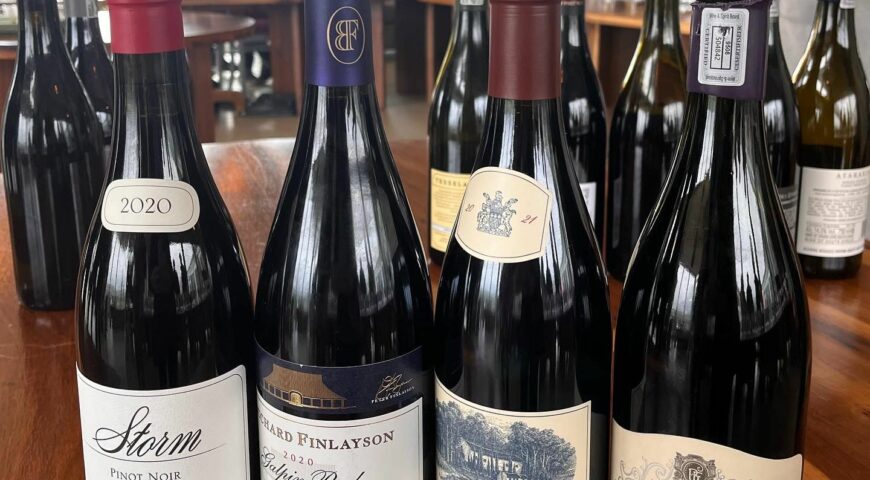 Hemel-en-Aarde Pinot Noir
One day a year is set aside to reflect on the noble Pinot Noir grape and the wines produced. This year International Pinot Noir Day was held on 18 August. 15 Hemel-en-Aarde Pinot Noir producers showcased their best wines in a private tasting at La Vierge followed by a leisurely lunch at Bouchard Finlayson Manor House.
Quote of the day: Pinot Noir is an ego breaker. A grape that doesn't play be the rules.
Emul Ross started the tasting by saying that La Vierge has one of the best viewpoints of Hemel-en-Aarde Valley. Bartho Eksteen, the first producer located as travelling on the Hemel-en-Aarde Road R320 from Hermanus towards Caledon explained that the clay concentration on his farm means that every walk through the vineyards makes him a taller man as the soil compacts under his boots.
Gordon Newton Johnson spoke to the Upper Hemel-en-Aarde flight. 70% of Hemel-en-Aarde vineyards are north facing. In Upper Hemel-en-Aarde Valley the granite is decomposed with clay banks as foundation. The deeper the clay the more elegant the wine. The granite gives a fine tannin structure. Gordy has been in Hemel-en-Aarde for the past 20 years. Since 2020 the vintages have been colder. Frederick Hasher was asked about his farm's improvement programme where 20 hectares were uprooted. These were vines planted in 1990s and there was only a small block of Pinot Noir amongst that which got uprooted.
The producers were:
Ataraxia
Bartho Eksteen
Bosman Family Vineyards
Bouchard Finlayson
Cap Maritime
Creation
Domaine des Dieux
Hamilton Russell Vineyards
Hasher Family Estate
La Vierge
Newton Johnson Family Vineyards
Spookfontein
Storm Wines
Tesselaarsdal
Whalehaven
Pinot Noir Notes:
Hemel-en-Aarde Valley and Ridge share the most similarities of any of the Hemel-en-Aarde appellations.
Wine is an agricultural product first. Hemel-en-Aarde is truly a coastal region and benefits from the cool Atlantic sea breezes. Climate change has not affected Hemel-en-Aarde as much.
Kevin Grant of Ataraxia had 30 years of wine making experience in 2020. The latest release Pinot Noir from Ataraxia is 100% fermented whole bunch. The whole bunch press usually brings a marvellous tension to the wine. Christian Eedes mentioned that whole bunch pressing is fashionable and recognised fine tannins on the Ataraxia wine.
Jean Vincent Ridon enjoyed the texture on the Hemel-en-Aarde Valley Pinot Noirs and mentioned the silkiness. The Hemel-en-Aarde Valley flight included the newly released Bartho Eksteen Fluister Pinot Noir. This is Bartho's first Pinot Noir made from his farm in Hemel-en-Aarde.
Upper Hemel-en-Aarde Pinot Noirs were characterised by a common florally aroma and weight in the mount.
The Hemel-en-Aarde Ridge was noted as a bold flight with more oak picked noted. The elevation and different slope profiles, iron rich clay soils were mentioned. The Pinot Noirs were described as generally charming wines.
Kevin Grant quoted Andrew Jefford when wine journalist referenced Chardonnay. The same can be said for Pinot Noir.
"Find a site where Pinot Noir is happy, ideally a site where no other grape variety could grow more valuable grapes or make more exciting wine. In the early days, that's often a judgment call."
Hemel-en-Aarde winemakers have made the call and Pinot Noir is pleased with this choice.