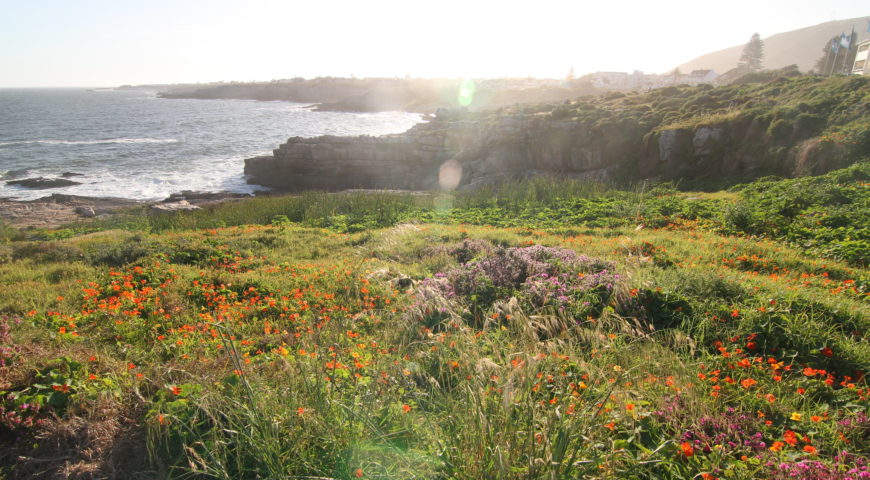 THE MOST CHARMING TOWNS AND SMALL CITIES IN SOUTH AFRICA
South Africa is home to a diverse landscape that comprises everything from pristine beaches, rugged mountains and craggy cliffs, to dense forests, crystal-clear lagoons and lush winelands. Interspersed around this varied topography are a vast number of towns and cities, each boasting their own unique character and cultural identity.

Enjo Nature Farm in the town of Clanwilliam, Western Cape (Photo: Heribert Bechen via Flickr / CC BY-SA 2.0)
We asked more than 100 writers, travel bloggers, photographers and other professionals who have spent time in the country to pick the five best small towns and cities in South Africa that they consider the most charming. All destinations with populations of less than 500,000 were considered in the final vote count. And so without further ado, here, in alphabetical order, are the 20 most charming towns and small cities in South Africa based on our survey.
Baberton, Mpumalanga
Situated in the De Kaap Valley in the heart of Mpumalanga, fringed by the Makhonjwa Mountain Range, the 'Gold Rush' town of Barberton is a nature lover's paradise. Iconic African animals, rare butterflies, and some 350+ species of birds can be spotted along the many birding routes, hiking trails and nature reserves for which the area is famed. The town also remains home to many of the buildings that cropped up during the lucrative Gold Rush era of the 1800s, and Barberton's Heritage Walk is one of its most popular attractions, along with the various mining tours and gold panning experiences that allow visitors to get a taste of a bygone era.
Betty's Bay, Western Cape
The small and sleepy seaside town of Betty's Bay on the Overberg coast of South Africa's Western Cape province combines stunning ocean vistas, a magnificent mountain back-drop, and a laid-back vibe. Positioned in a narrow strip of land sandwiched between the Kogelberg Mountains and the Atlantic Ocean, and bordered by fresh water lakes, it offers visitors the chance to explore the UNESCO-protected Kogelberg Biosphere Reserve, an unspoilt and isolated site of natural beauty and floral diversity. Other local highlights include the penguin colony at Stony Point and the Harold Porter Botanical Gardens.
A canoe perched on the shores of a lake overlooked by mountains in Betty's Bay (Photo: Courtesy of Dirk Theron)
Clanwilliam, Western Cape
Although one of the oldest towns in South Africa, time has certainly not dimmed Clanwilliam's charm. Located in the West Coast region of the Western Cape, between the Western slopes of the Cederberg mountain range, the town is home to seven national monuments, all of which can be admired during a guided historical walk of the town centre. Among the highlights are the old jail building which has been converted into a museum, the original farmhouse of Jan Disselsvallei (the town's original namesake), and an authentic 1820 Settler's house. Scenic hikes can also be enjoyed in the Cederberg mountains.
A bird's-eye view of Clanwilliam (Photo: www.clanwilliam.info)
Clarens, Free State
Perched in the foothills of the Maluti Mountains, the small town of Clarens has been dubbed the "Jewel of the Eastern Free State" – and for good reason. As an artistic haven, many creative types come here to gain inspiration from its breathtaking scenery. This is at its starkest in the nearby Golden Gate Highlands National Park, which takes its name from the shades of gold and orange cast by the sun on the sandstone cliffs at certain times of day. There's no shortage of gift-buying opportunities too, thanks to the town's myriad arts galleries and craft stores. Additionally, cycling, game driving, trout fishing and birding offer plenty of outdoor recreation options.
A dog ambles along as a hot air balloon takes flight in Clarens (Photo: C TF via Flickr / CC BY-ND 2.0)
Franschoek, Western Cape
Centuries-old vineyards and striking architecture characterise the magical town of Franschhoek in South Africa's Western Cape, nestled in one of the world's most beautiful wine valleys. Offering a distinctly French flavour thanks to the French settlers who arrived in the region in the 17th and 18th centuries, the town is a gastronome's paradise, with some of the country's best restaurants found here, as well as more than 30 wine cellars. Attractions including the Huguenot Memorial Museum and the Franschhoek Motor Museum add to the appeal.
A Franschoek eatery set against a mountainous backdrop (Photo: franschhoek.org.za)
Graaff-Reinet, Eastern Cape
Resonating with historic charm, Graaff-Reinet, one South Africa's oldest towns, is set against the imposing backdrop of the rocky Sneeuberg Mountain in the Eastern Cape. Awash with hundreds of heritage buildings and Boer War monuments, the 19th-century town offers a fascinating window into the past, while the surrounding Camdeboo National Park offers landscapes of rich greenness and mountains, and the chance to try out a variety of outdoors activities including bird and game-watching, hiking, trout fishing, horse riding, and fossil study.
An eye-catching building at the end of a street in Graaff-Reinet (Photo: South African Tourism via Flickr / CC BY 2.0)
Hermanus, Western Cape
A popular excursion from Cape Town, the scenic coastal town of Hermanus is renowned for its exceptional whale-watching opportunities, pristine beaches and world class wine routes, all accompanied by a quintessential fishing village vibe. Situated between mountain and sea, the town also offers outdoor-lovers several notable places of interest including the Fernkloof Nature Reserve and the Kleinriver Lagoon. The Old Harbour complex is home to a wealth of information, giving visitors an insight into Hermanus' past.
A scenic view in Hermanus (Photo: meshugas via Flickr / CC BY 2.0)
Hogsback, Eastern Cape
Perched on the Amatola Mountain Range in the Eastern Cape, with the Hogsback Mountains looming large, the small town of Hogsback has a habit of sending people giddy with charm, and it's not just because of the altitude. A thriving arts and crafts scene, endless nature-watching opportunities, and some of South Africa's most prized forested areas draw visitors here, while astounding views of waterfalls and valleys offer photographers the perfect vistas to capture.
Kimberley, Northern Cape
The 19th century diamond mines remain testament to Kimberley's glittering past when it was at the centre of the fevered diamond rush of the 1870s. The historic town has retained plenty of its character since those halcyon days, thanks to the well-preserved architecture that emerged during that era, along with a vibrant arts scene and – in keeping with its bejewelled heritage – an array of boutiques selling exquisite, individually crafted jewellery.
A striking home in Kimberley (Photo: flowcomm via Flickr / CC BY 2.0)
Knysna, Western Cape
Set amid a veritable paradise of lush forests, tranquil lakes, and golden beaches, the town of Knysna on the banks of a picturesque lagoon is a jewel in the Western Cape crown. Showcasing the very best of the country's raw and awe-inspiring natural beauty, the town is the perfect destination for experiencing South Africa's great outdoors. In the town centre itself, the main street is lined with charming boutiques, and the harbour area and Knysna Waterfront are home to several bars, restaurants and clubs where patrons can enjoy a cocktail while watching the sun set over Knysna.
A waterside scene in Knysna (Photo: Chris Bloom via Flickr / CC BY-SA 2.0)
Nottingham Road, Kwazulu
With its old-world country taverns and traditional, old family farmland, Nottingham Road is a classically charming village, located a short drive south of the Mooi River in KwaZulu-Natal province. Landscapes of green rolling hills, a sprinkling of fly-fishing dams, an eclectic mix of arts & crafts stores, and a varied restaurant scene all combine to make the village a popular stopping off point for visitors to the region.
Paternoster, Western Cape
One of South Africa's oldest fishing villages has lost none of its appeal since its origins. A popular holiday destination thanks to its breath-taking coastline, sandy white beaches and local charm, the village offers an array of sights and attractions for visitors, including whale, dolphin and bird-watching, beach buggy excursions, cray and spear-fishing, hiking trails, mountain biking and sea kayaking. The nearby West Coast Fossil Park and the Cape Columbine lighthouse make for land-based places of interest too.
The sandy shoreline in the fishing village of Paternoster (Photo: Abspires40 via Flickr / CC BY 2.0)
Pietermaritzburg, Kwazulu
Bursting with youthful energy thanks to its large population of students, the city of Pietermaritzburg combines a rich cultural scene with verdant local countryside and wildlife spotting opportunities. Dotted with Victorian-era red brick buildings, a variety of galleries and museums provide culture-vultures with plenty of places to visit, and they can seek respite from the hustle and bustle in the myriad parks, gardens and game reserves, including the delightful Pietermaritzburg Botanical Gardens. Venture beyond the city and visitors will soon find forests, rolling hills and valleys to explore.
Polokwane, Limpbopo
Exceptional bird watching, untamed bush and mountain landscapes are just some of the characteristics that gave Polokwane a well-earned place in this list. As the capital of the Limpopo Province, the town is considered the region's cultural hub, thanks to its museums, galleries and boutiques, together with a genteel streetscape that encompasses wide boulevards and plenty of green public spaces. Meanwhile the nearby Polokwane Game Reserve offers the chance to hit the nature trail.
A view over Polokwane's urban centre (Photo: South African Tourism via Flickr / CC BY 2.0)
Port St John's, Eastern Cape
Situated at the mouth of the Umzimvubu River, Port St John's enjoys a dramatic setting, close to the wildness of the coast with its deep gorges, dense forests and mangrove swamps. In terms of atmosphere, it has long been a haven for hippies, eccentrics and backpackers who come here to enjoy its unique cultural richness, which has helped give the town a laid back vibe. For excursions, the area is prime hiking country, with forests and trails and more than 250 species of birds, all easily reachable too.
Riebeek-Kasteel, Western Cape
Another of South Africa's oldest towns, Riebeek-Kasteel lies in the heart of the Riebeek Valley on the slopes of a mountain. Renowned for its olive groves and world class wine estates, it has attracted a number of writers, painters, and other artists down the years who have come to feed off the potent mix of serenity and creative energy. A liberal sprinkling of local shops, bistros, restaurants and art studios also help lend the town a bustling feel.
Goedgedacht Farm in Riebeek-Kasteel (Photo: warrenski via Flickr / CC BY-SA 2.0)
Stellenbosch, Western Cape
The university town of Stellenbosch in South Africa's Western Cape province is surrounded by vineyards and mountainous nature reserves. In the town itself, oak-shaded streets lined with cafes, boutiques and art galleries create plenty of character, and a hotchpotch of Cape Dutch, Georgian and Victorian architecture add to the visual charm. The town is also home to South Africa's oldest music school, the famous Stellenbosch Conservatoire, and for nature lovers there are a number of excellent hiking trails nearby.
A charming shop front in Stellenbosch (Photo: thomas via Flickr / CC BY-SA 2.0)
Sutherland, Northern Cape
Lying in the western Roggeveld Mountains in the semi-desert region of Karoo, the town of Sutherland is one of the most remote destinations to make this list – and one could argue that's a major part of its charm. A popular weekend getaway for couples, families and off-the-beaten-track travellers, the sleepy town has plenty of history to explore, as well as some top notch attractions including the Southern African Large Telescope and several farms offering tours that provide an insight into daily life. Winter invariably sees snow arrive, affording the town a picturesque white-flecked veneer.
Umhlanga, Kwazulu
The upscale resort town of Umhlanga on the coast of KwaZulu-Natal is a popular holiday destination thanks in large part to its idyllic beaches, charming paved walkways, and oceanside bars and restaurants. The famous Umhlanga Lighthouse is a beacon on the landscape, and Umhlanga's beaches are packed with visitors all year round thanks to the area's temperate climate.
Wilderness, Western Cape
This seaside town, on the Garden Route of the southern Cape in South Africa, is also a gateway to the foothills of the Outeniqua Mountains. With this combination of sea and mountains, it would be no exaggeration to describe Wilderness as being of incomparable beauty. Stunning beaches, several vantage points for spotting whales and dolphins as they navigate the waters of the Indian ocean, and a rich bounty of rivers and lakes, are captivating reasons to visit. Action-packed outdoor pursuits, including waterskiing, hiking, mountain-biking, paragliding and horse riding, ensure that any adrenaline-craving visitors are kept entertained.
A view of the Indian Ocean from the hills over Wilderness (Photo: South African Tourism via Flickr / CC BY 2.0)