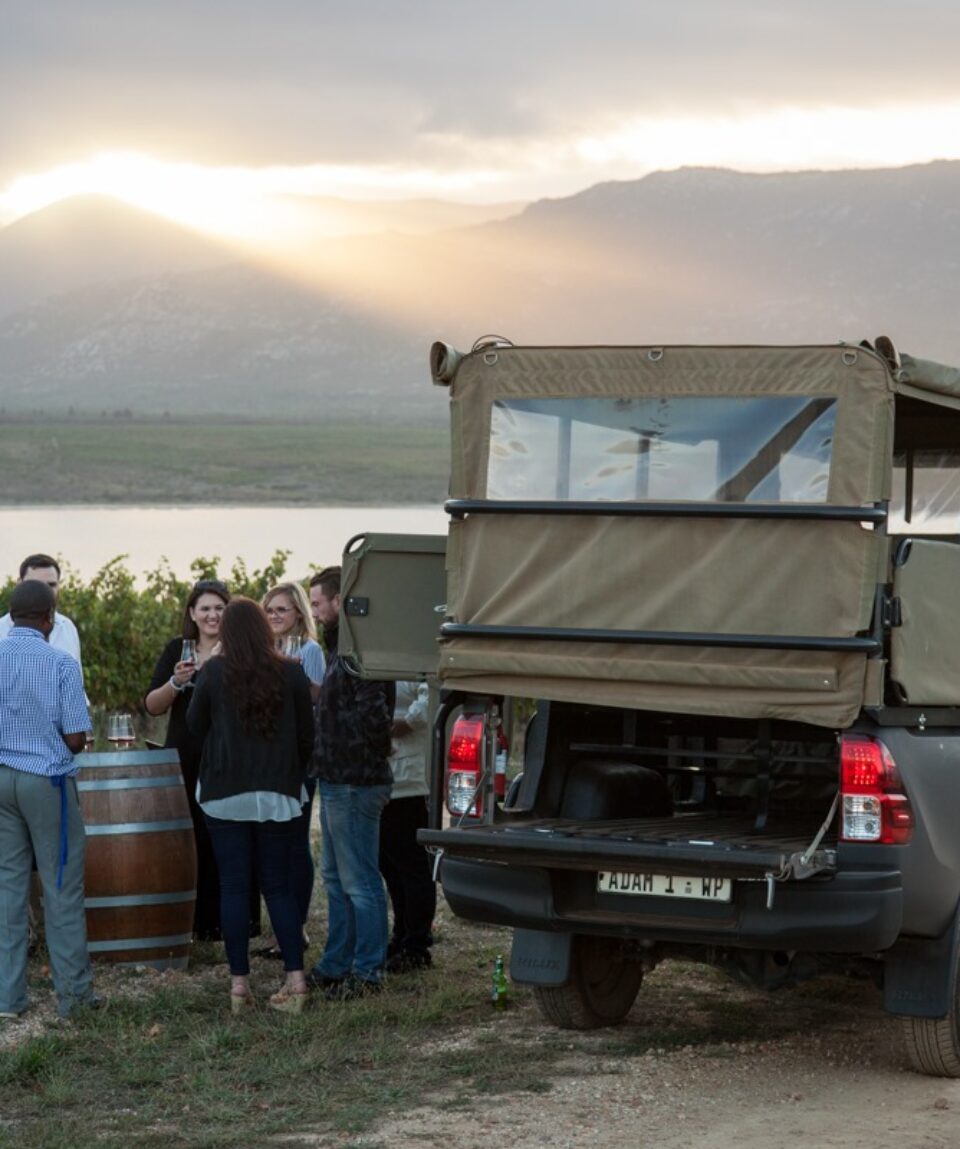 Benguela Cove Day Tours
from
Benguela Cove offers guests of all ages a fun variety of things to do. This luxurious estate also boasts the longest stretch of ocean-facing vineyards (2.6km), grown at the lowest altitude, about 3m above sea level.
Address: Benguela Cove,R43,Hermanus
Contact: 087 357 0637
Email: info@benguelacove.co.za
Website: www.benguelacove.co.za
Vacation Style

Holiday Type

Activity Level
All about the Benguela Cove Day Tours.
BOAT CRUISE ATTRACTIONS
The pontoon boat cruise is complimentary for two people when you buy any case of wine – 6 bottles or more at Benguela Cove.
Pontoon cruise available Wednesday to Sunday – weather permitting, 10:00 | 12:00 | 14:00 | 16:00
Booking essential: 087 357 0637 | info@benguelacove.co.za
A perfect way to experience our nautical property is by taking a cruise on our pontoon. Climb aboard the Lady Bonnie and enjoy a scenic trip across the lagoon. Arrive an hour before the departure time to stock up on refreshments.
CELLAR TOUR
Best Wine Cellar Tour in the Cape Winelands
Experience an informative and interesting tour of our state of the art wine cellar. Guests can see for themselves where we finish what nature has started. Taste some of the best South African wines directly from the barrel and learn more about the timeless art of winemaking. Get a glimpse behind the scenes and discover a wealth of knowledge on the processes that create our award-winning wines.
Explore The Art Of Wine Making
Guided cellar tour
Duration: 60 min
Lots of fun things to do for the whole family
Buy a case of wine or more and get a complimentary pontoon cruise*
Wednesday – Sunday | 11:00 – 16:00
Booking is recommended – walk-ins welcome*
*Subject to availability
VINEYARD SAFARI AND WINE TASTING
Vineyard Safari Experience at Benguela Cove.
Explore unique vineyards in South African wine country on a perfect day out amongst the vines. Encounter the best vineyard estate on the Hermanus Walker Bay wine route. Conveniently located en route to Hermanus on the scenic drive from Cape Town.
Blossom To Bottle – Vineyard To Glass
Enjoy this guided vineyard tour as you get a sneak peak at the farming activities and growing cycles that go into making our award-winning wines.
Vineyard Tour and Wine Tasting Details
Blossom to bottle private vineyard safari
Taste five of our estate grown wines in the vineyards
Solo vineyard tour | R300 per person
Family vineyard tour ( 2 adults and 2 kids ) | R650
Kids vineyard tour| R 75 per person includes juice
Available Wednesday – Sunday | 11:00 – 16:00