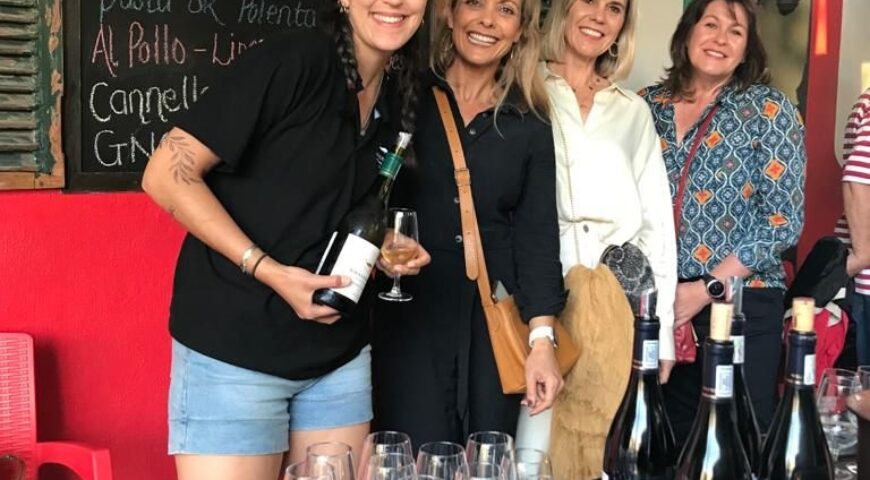 Hermanus Stoepkuiers
More stoepe, more stories…Guide for the Hermanus Stoepkuiers this week was Brian McFarlane whose family was one of the first five families to establish in Hermanus. Building the Marine Hotel and involvement in the fishing industry gave Brian more than enough facts (and fiction) to share while going from one interesting Hermanus stoep and story to another. It started at St Peter's Church, the first place of worship in Hermanus and apply named for the patron saint of fishermen. Did you know that the stones for the building of the church were hand chiselled and chosen for its resemblance of the sunset shades at Maanskynskop.
Second stop was Fabio's Italian Restaurant in St Peter's Lane. Fabio took over the restaurant in 2007 and combined the previous Greek and Italian restaurants into a traditional family eatery. Food served at the first two stoepe were provided by Fabio Lenci and his daughter Carmen while Seven Springs and Whalehaven provided the wine.
Third stop was at Fisherman's Cottage where Anton Verhoogt dished up delightful morsels of fine food paired with Creation wines. Then it was off to the station that has never seen a train. New chef patron of Caffe Blu, Simon, served a colourful vegetarian beetroot salad paired with Strandveld's Spook of Blomfontein before the group was whisked off by Hermanus Winehoppers to Brian and Sandy's house on the golf course. This house was bult by Brian's great grandfather in 1907 and was the first clubhouse. There are interesting theories as to why the palm tree is as big and strong should anyone be interested in growing palm trees. Alwyn Liebenberg served his Lieben tannat while Two Chefs took care of the canapes.
Fifth stoep was at Lizette's who has made the historic property at the Voëlklip roundabout part of Hermanus again more than ten years ago. The building was originally a farmhouse and served as doctor's rooms where coincidently – Brian was born! Ilse-Marie Thiart poured her and winemaker husband Reino's wine that is now served by the glass at Lizette's.
Storytime was concluded at Dutchies, where a trio of sweets and a drink poured by Karen Dickens of Spirit of Hermanus, Folk & Goode, Fiddlers Spirits and Old Tin Hats brands. Did you know that Dutchies will be turning TEN soon? How time flies. Until next time…